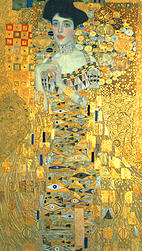 With the upcoming movie 'Woman in Gold' soon to be released, we thought it would be a great time to revisit one of our favourite artists at Flame Tree, Gustav Klimt. 'Woman in Gold,' as you may know, is based off the true story of Maria Altman's attempt to reclaim her aunt's portrait, Adele Bloch-Bauer I. We have already discussed Klimts works in great detail, including 'The Kiss' and the 'Tree of Life'. With the approach of the movie, we return to Klimt's works and explore the woman behind the painting. Just who was Adele Bloch-Bauer?
Klimt
While studying at the Kunstgewerbeschule, Klimts talents were highly regarded. His professors secured him paid commissions while he was still studying, and before long Klimt was a well established artist.
Trained as a traditional artist, Klimt soon joined the artistic desire to stray from tradition. He joined the Vienna Secession, a group of artists with no manifesto who welcomed artists who worked in all styles. Their goals were to end the cultural isolation of Vienna, welcoming artists from abroad and making their work known in other countries; to provide independent art exhibitions without selection committees; to make their own, independent creative decisions without having to adhere to strict expectations. Klimt was elected as their first president, and, with the help of a government lease on public land, they built an exhibition hall. Above the entrance the words 'Der Zeit ihre Kunst. Der Kunst ihre Freiheit' ('To every age its art. To art its liberty'), a comment from art critic Ludwig Hevesi (1843-1910).
Klimt is most well known for his appreciation for the female form and his Golden Phase. The Adele Bloch-Bauer portraits are considered the two most representative paintings of this phase. As we've previously discussed in some of our other blogs (see here for further reading), Klimt painted numerous women and had many intimate relations with them. Still, it is significant to note that Adele Bloch-Bauer is the only woman (apart from his muse Emilie Floge) he painted twice. Some suggest that Adele even inspired his most erotic work, 'Judith I.' So, who was this woman?
Adele Bloch-Bauer
Born in Vienna to an influential director of the Viennese Bank association, Adele Bloch-Bauer was the youngest of seven children. She grew up unhappily, denied an education by merit of her gender, and married young to escape her household. Her much older husband, Ferdinand Bloch, was a rather wealthy man.
As an upper-class Viennese woman, Adele studied French, German and English classical literature in her home and often entertained intellectual guests, such as Gustav Mahler (1860-1911), Stefan Zweig (1881-1942) and artist Gustav Klimt. She was often caught with the unladylike habit of smoking.
Adele and Klimt were close, and some suspect they were lovers. Ferdinand Bloch-Bauer commissioned a portrait of his wife from Klimt. The portrait he created, upon first glance, is that of a wealthy upper-class woman. After closer inspection, it is clear that the portrait is much more. Adele Bloch-Bauer looks at the painter, Klimt, with an expression that suggests a special bond between them. She is draped in an elegant silver dress, adorned with erotic symbols of triangles, eggs and eyes. These symbols hint at a more intimate relationship between painter and subject.
Klimt painted two portraits for Adele and her husband, and the two were proud of their collection. They also purchased four landscapes as well as numerous drawings by Klimt. Adele set up somewhat of a shrine to her artist friend. Klimt's paintings decorated the walls of her chambers and his photo was proudly displayed on her side table.
An affair between Klimt and Adele has never been confirmed, but the two are linked in history by the mysterious nature of their relationship. Adele died suddenly of meningitis, and she asked her husband to donate Klimts paintings to the Austrian Gallery after his death.
Judith
Judith I is considered to be Klimt's most erotic panting. Adele's resemblance to this woman is striking. The two share similar facial features, and both wear flashy neck-bands. These similarities are not enough to prove anything, however the speculation creates further evidence for an intimate relationship between Klimt and Adele.
Whatever the nature of their relationship, Adele Bloch-Bauer was an elegant, modern intellectual lady whose appreciation for art and literature was boundless.
To read more about Gustave Klimt, check out our popular title Gustav Klimt: Masterpieces of Art (ISBN: 9781783611393) available on our website here or on Amazon here.

Links