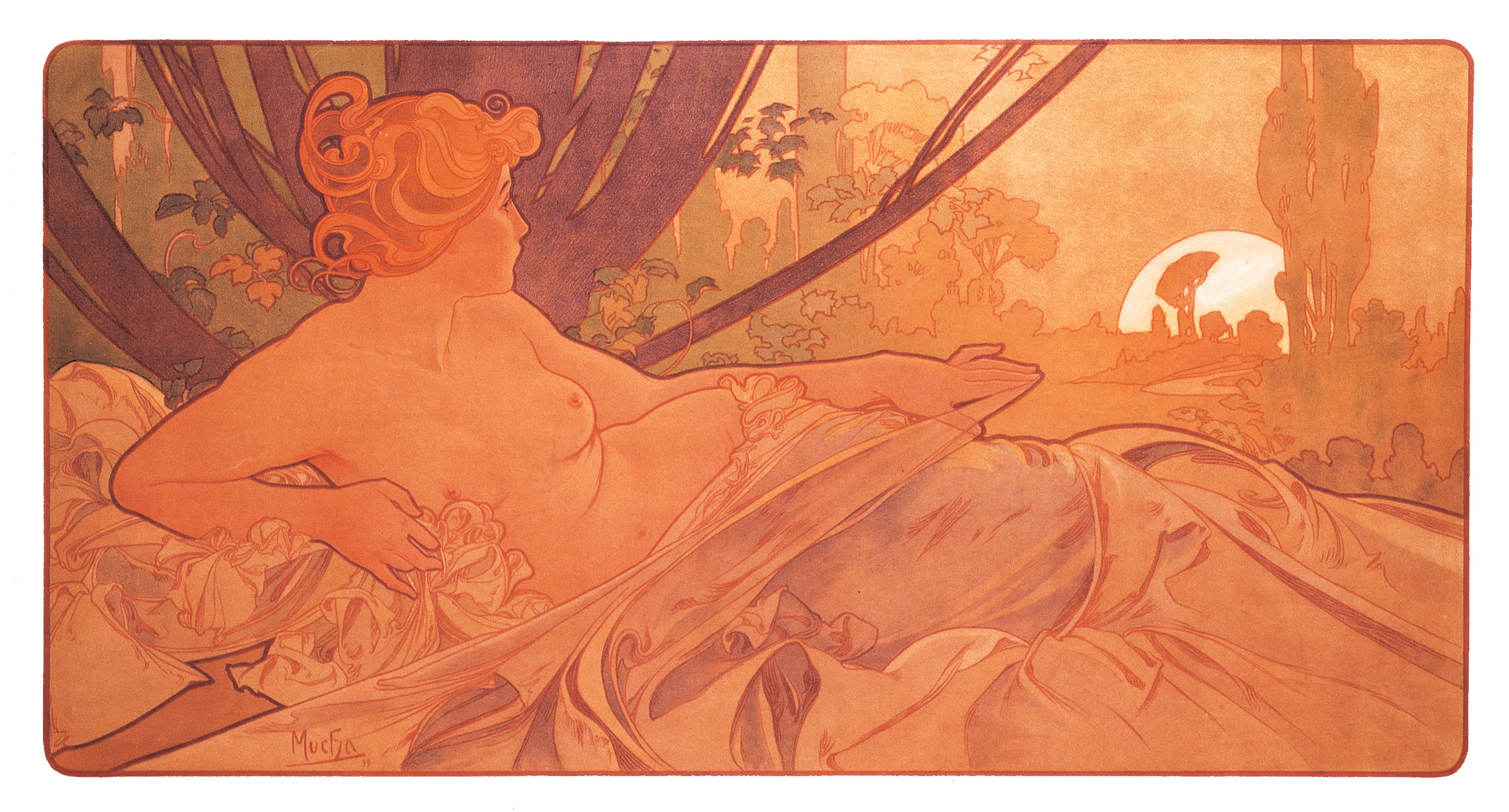 In part one of our Alphonse Mucha blog we looked at his amateur years, if you missed it just click here to take a look. We saw how Mucha's early life built the stepping-stones for future opportunities. Today we look at the next phase of his life that started him on the road to his future fame.
Success in Vienna
Vienna proved to be an excellent place for Mucha to begin his career. The company of Burghardt-Kausky and Brioschi continued to give Mucha many projects designing theatre sets and costumes. But his job was better than imagined; Mucha could attend any of the professional shows, plays, and art exhibitions his company produced. Inspired to become something better, Mucha enrolled in evening art classes and made several visits to a number of galleries as well as contemporary art exhibitions.
At the art exhibits, Mucha took extreme fancy to an Austrian artist, Hans Makart. Makart had numerous masterpieces of art, and Mucha was so impressed with Makart's work he developed strong aspirations to become an artist just like him. Makart impressed hundreds of other people as well, especially the upper class ladies. These ladies would line up at Makart's door begging Makart to draw them as if they were Athena or Venus. Makart's profession made him very wealthy and very well known among many painters. Amazed by Makart's success, Mucha closely studied his style, especially his depictions of women in religious or mythological roles. It was this passion and appreciation of Makart that made a permanent influence on Mucha's developmental style and personal recognition.
Change of Pace
Mucha soon discovered his life was too good to be true; a major fire demolished Vienna's Ring Theatre killing 400-500 people. This theatre was one of the most important theatres to Mucha's company. The devastating loss of this theatre forced his company to dismiss many employees, including their newest employee Alphonse Mucha.
Out of employment, Mucha jumped on a train to search for work but quickly ran out of money. He was forced to end his travels in Mikulov – a small town in South Moravia. Without any money, Mucha was left with no choice but to sell his only sketch in order to afford a place to sleep. Needing to survive and determined to be successful, he reflected on the techniques Makart used and created sketches of the local figures in Mikulov.
To much of his surprise, the sketches not only sold in high demand, but they caught the attention of people seeking talented artists. Mucha gratefully completed a variety of odd jobs like designing tombstones, creating letterhead, and constructing ornamentation. Each job and each creation helped him receive another job. His work eventually interested the Count Karl Khuen-Belasi. The Count was so impressed with the variety of projects Mucha completed that he hired him to paint an ornamental, elegant theme in his home, Emmahof Castle. The Count continued to have him complete various themes as well as decorate for his brother Egon at his home, Gandegg Castle in Tyrol.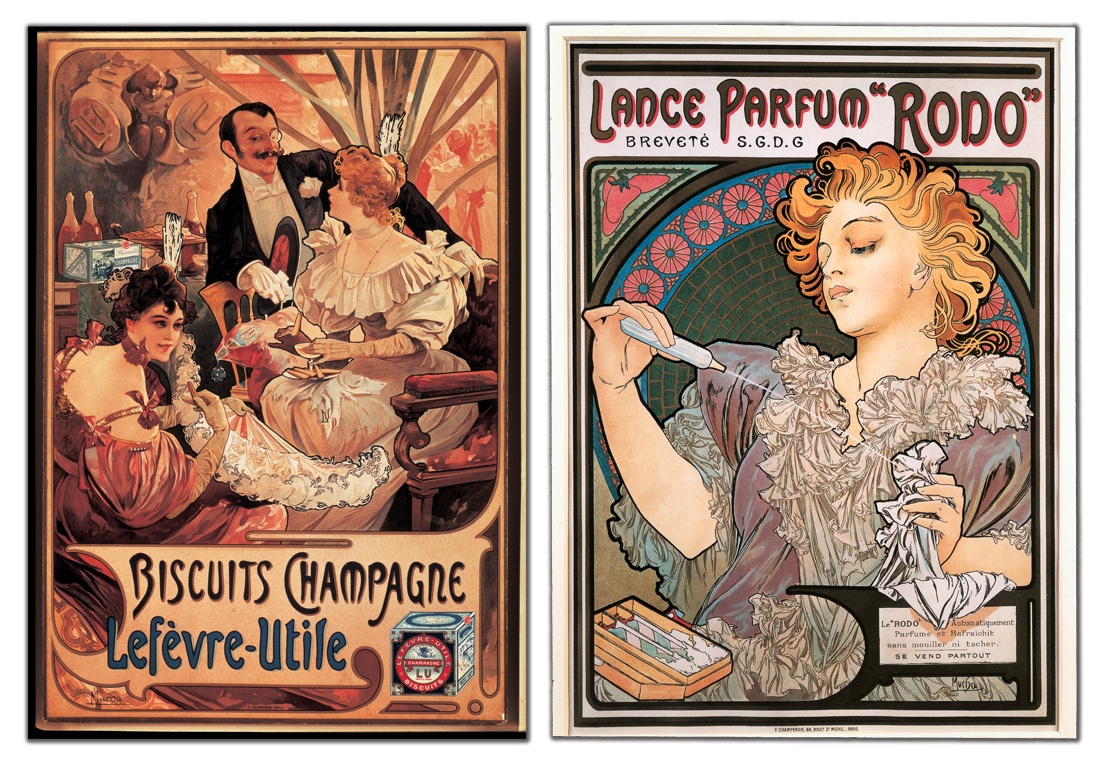 The Count's deep appreciation for Mucha's work and the time he spent at the castle inevitably led to the development of a fine friendship. The two friends created a routine of painting together. After many months of leisurely painting and doing odd jobs around Mikulov, Professor Wilhelm Kray discovered some of Mucha's magazine illustrations. The professor was so appalled that Mucha was wasting his talent as an amateur artist that he admitted Mucha to the Munich Academy of Fine Arts, and the Count, who was extremely proud of Mucha's aspirations and friendship, agreed to fund his schooling. After the completion of art school, Mucha felt indebted to the Count, so he moved back to privately paint for the Count's castle. The Count was still not satisfied with the professional development of Mucha, so he presented more generous funding for Mucha to continue art school in Paris.
Mucha immediately accepted the funds and moved to Paris with fellow artist Karel Vítězslav Mašek to attend the Académie Julian and Académie Colarossi. Afterwards, he secured a number of commissions to produce illustrations for French and Czech publishers. He was also able to find a place to eat and sleep at Madame Charlotte's crèmerie, where art students can eat on credit and pay with their paintings.
The Beginning of a Career
Throughout Mucha's stay at Madame Charlotte's, he met numerous artists, musicians, composers and writers who provided significant influences towards many of his paintings. Mucha developed into a regular contributor to French Theatre where he eventually composed some of his most famous paintings, such as the beloved Cleopatra. Time sped up and he did many odd jobs and commissions for friends he had met during his lodgings. When he was correcting some proofs for a friend at Lemercier's printing works, it came up that someone was neeeded for a project. Since it was a holiday break and all the artists were away, Sarah Bernhardt asked Mucha to create a poster for her new production of Gismonda. Although Mucha was pressed for time during the creation process, this published poster became so popular people stole them for their own collections.
Astonished by the extreme popularity, Bernhardt offered Mucha a six-year contract to design posters, stage sets and costumes for Paris' leading actresses. This giant success sprung Mucha into the renowned artist we know today. His professional career flourished and he produced thousands of art nouveau masterpieces.

If you want even more Mucha information, including a much more detailed at his life and works alongside stunning full-page reproductions of his works, look no further than our popular title Alphonse Mucha: Masterworks. Take a closer look at the book here. You can also click here for Amazon.
Links
This post was written by intern Kaiti Porter.