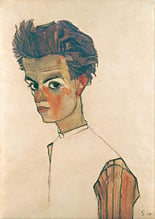 Egon Schiele (1890-1918) made no attempt to hide his desire to befriend Gustav Klimt (1862-1918). His admiration for Klimt, the star of the Viennese art circle, grew from his domination of the avant garde art scene in the early 20th century. In 1907 he became determined to meet Klimt. He had heard that Klimt had his own admiration for those who sought to be successful.
After attempting to catch a sight of Klimt at one of his local haunts, Schiele instead opted for waiting for him outside of his studio. He brazenly handed his work to Klimt and just asked 'Do I have talent?' Not only was Klimt impressed by the young man's art but also the young man himself. This meeting spurred on a valued friendship and formative mentorship.
Introduction of Schiele to the Scene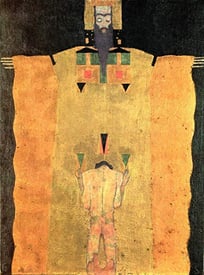 Schiele took a great amount of inspiration from klimt. Direct inspiration can be seen in pieces such as in his 1908 work, Young Man Kneeling Before God the Father. It was during this period that Schiele was introduced to the Vienna art scene. Four of his pieces were chosen to be featured in the 1909 Internationale Kunstschau, of which Klimt was a committee member. This show catapulted Schiele into the art world. His work was seen by patrons and critics from around the world and it was from here he broke away from Klimt's style.
A Change in Style
As Schiele started to be recognized as an artist in his own right, he moved away from the more ornamental style that Klimt favored. In 1909, Portrait of Hans Massmann highlighted a new trend that would come to be emblematic of Schiele's style: blank backgrounds. These backgrounds were coupled with Strong colors and outlines around the figures that were intended to push certain aspects of the figures into the primary focus. The figures he painted were often contorted or had a caricature-like quality that gave them a particularly dark tone.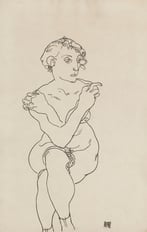 Final Works
After being conscripted in WWI Schiele returned to Vienna to focus on his art. He produced work at the rate of an artist truly showing an understanding for their skills. In 1917 Schiele featured around fifty works in the main hall of the Vienna Secession's 49th exhibit. The exhibition was a success for Schiele who was inundated with commissions while the price of his existing work rose. Sadly, the next year would first see his mentor, Klimt, succumb to Spanish flu several months before his wife, Edith, would also be taken. In the days after her death he would make several more drawings of her but would himself be taken by the flu three days after her funeral.
This post is based off extracts from our book Egon Schiele: Masterpieces of Art (ISBN:9781786640284). This title is part of our Masterpieces of Art series which is packed, with tonnes of information and beautiful images. You can order it from our website here or on Amazon here.

Check out all of the MoA blog posts from 2018!