Paul Gauguin (1848–1903) was born to Clovis Gauguin (1814–51) and Alina Maria Chazal (1825–67) inParis. A man driven by his own desire above anything else, Gauguin is a celebrated artist with a story that now warrants people questioning his work. He would come to be defined by his travels and work in what he termed 'primitive' cultures, but from an early age this travelling was a central part of his life.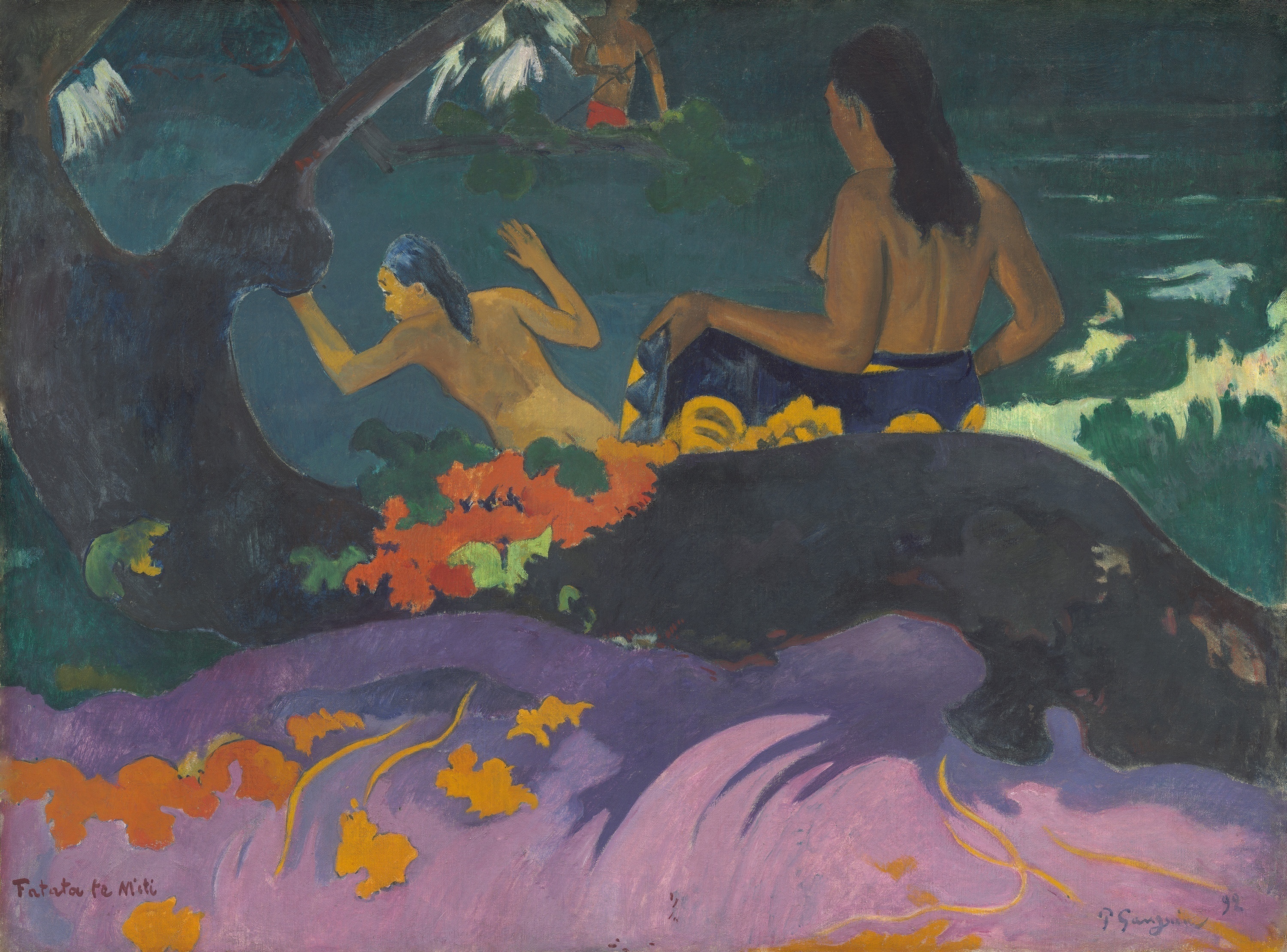 His First Voyage (1949)
Shortly after he was born, Gauguin's family left Paris. The newly installed French government was unhappy with the liberal political writing of people like Gauguin's father's and so Clovis and his family fled to Peru. Little did they know, this first voyage would set in motion a life defined by travel for Gauguin. They travelled from Paris to Lima, where Alina had family. Clovis had hoped to continue his journalistic career in political writing but suffered a heart attack while en route. Gauguin lived out his early years in a beautiful part of Peru but this ended abruptly when the family was forced to return to France due to the political turmoil of the country.
Return to France (1854)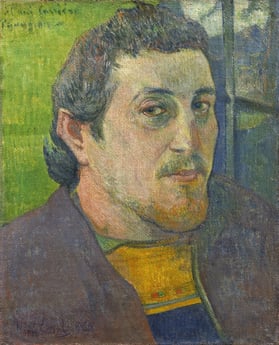 Gaugin lived in Orleans, south of Paris, to attend schools. Once he had finished he went on to the naval academy, which in turn led him to join the navy. He served for around two years and returned after his mother had died.
Now living in Paris, Gauguin needed a job. A family friend, Gustave Arosa, helped him to find a job as a stockbroker where the pay was very good. Gauguin simultaneously worked as a stockbroker and an art dealer, attempting to follow his developing passion for art as a second job. He stayed a Parisian businessman for a little over a decade and became very wealthy. By the end of his career as a stock broker he was making around 30,000 francs a year (equivalent to around $145,000 in 2018) and his art dealing wasn't too far behind equalling this figure.
In 1882, however, there was a sudden market crash. At this point Gauguin had five children with his wife but his wealth was deteriorating. He chose this moment to turn his painting hobby into a career, and the next years saw him travel the world in search of inspiration.
Panama and Martinique (1886-87)
After short stays in Rouen, Copenhagen, Paris (again) and Pont-Aven, Gauguin travelled to Panama and Martinique. He wrote to his wife Mette that his intention was to live the life of the natives and remove himself from the company of men. At this time, his wife was struggling to support herself and five children but Gauguin was reluctant to share his 13,000 franc inheritance. After she pleaded he sent over 1,500 francs stating that the rest were needed for his travels. This stint away from Europe would come to ignite a fire in Gauguin for travelling to far-away cultures.
His First Trip to Tahiti (1891)
It was nearing 10 years for Gauguin as a professional and full time artist. He journeyed to Tahiti to live the primitive life he felt his art needed. It was also low cost which, given his current financial state, was important. However, under French colonial rule, Tahiti was experiencing a developing tourist trade. This was in direct opposition to what Gauguin had sought out. He travelled far away from the city and settled in Mataiea. It was here he employed 13-year-old Tehamana as his housekeeper and mistress. Apparently, Gauguin used this escape from the company of men to take advantage of young natives in both posing for his art and becoming sexually intimate with him.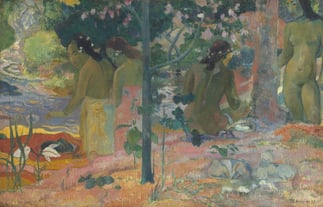 Gauguin was very productive in his time there, producing many of his celebrated images, but it is now thought that these images are in fact fabrications. He enhanced the island he saw and turned the women around him into objects of the island. The paintings began to become images of the fantasy he had of where he was.
His Final Voyages (1895)
After returning to Paris in 1893 with the sum total of 4 francs, Gauguin needed to re-establish himself as an artist. He gained moderate interest in his Tahitian works and made nearly enough to return to Tahiti. With some help from his friends, and without seeing his wife or children, he set off from Europe for what would be the last time.
He was initially disgusted at the increased colonial presence in his paradise, which was ironic given that his art had helped in creating it, but still spent the last years of his life between several different islands in Polynesia. He made a steady income sending paintings back to be sold, but pre-existing ill health, coupled with new ailments and poor medical care, left Gauguin getting more and more sick. He died in his home, in Atuona, in 1903.
The view of Gauguin, as an individual, has been experiencing a shift in recent decades. Many still recognize Gauguin as an artistic genius at the centre of the development of modern art. Many others think of him as a colonial painter who objectified a culture for his own satisfaction and profit. In both respects, Gauguin's art should be discussed and examined, and the central theme of his life as a voyager is a very useful tool in unpacking both him and his art.

This post is based off extracts from our book Masterpieces of Art: Heath Robinson (ISBN:9781786645586). This title is part of our Masterpieces of Art series which is packed, with tonnes of information and beautiful images. You can order it from our website here or on Amazon here.
Check out all of the MoA blog posts from 2018!