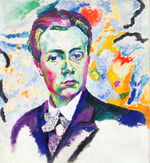 Robert Delaunay was a french artist best known for for being the co-creator (along with his wife, Sonia) of the art movement Orphism. By using bold, evocative colours and building upon the lessons of Cubism, Delaunay made striking works that helped inspire many popular modern artists. Today's blog takes a quick look at the life of this important figure in the art world.
Cubism Splits
Robert Delaunay first trained in a theatre scenic workshop for two years before pursuing a solo career as an artist. His interest in Neo-Impressionism was applied to paintings from 1905 to 1907, ploying a Divisionist technique to produce dazzling colour in theatrically expressive works. From 1907 Delaunay restricted his colour palette, informed by the art of Paul Cézanne. It was during his short, conscripted military service that Delaunay studied optics – the optical characteristics of colours – which became the focus of Robert and Sonia's future work. At its core was the optical sensation of movement, created by the depth of colour used in a painting.
During the early 20th century cubism was revolutionising European art. By 1909 however, two distinct factions had formed. The primary one being Picasso and Braque working with the art dealer Kahnweiler to sell their work. The other faction centred on the studio of painter Henri le Fauconnier (1881–1946). This group evolved to accommodate a community of writers, artists and musicians, and included Robert Delaunay as well as the artists Albert Gleizes, Fernand Léger and Jean Metzinger. These practitioners of Cubism were called 'Salon Cubists' and they concentrated on exhibiting in the major Salon shows rather than in private galleries. It was a marketing initiative to raise their public profile, bringing their names to public attention (with positive and negative results).
Simultaneous Windows on the City, 1912.
Robert Delaunay
The Salon Cubists showed for the first time at the Salon des Indepéndants in 1911. Le Fauconnier was head of the Commission of Placement, the 'hanging committee', guaranteeing his group major exposure. Following the opening, Albert Gleizes recorded the reaction:
"It was a marvellous Parisian spring day, sunny and warm. I passed through the first group of rooms in which there were few people…. The further I went the denser became the crowd… our room was packed, people were shouting, laughing, complaining, protesting in all manner of ways…. We couldn't understand it. The whole afternoon it was like this."
Birth of Orphism
After getting married in 1910, Robert Delaunay and his wife, Sonia wanted to challenge the representational art that Picasso had helped pioneer. Already a member of the Salon Cubists, Delaunay used his experiences and applied lessons learnt from Impressionism, Divisionism and Cubism to found Orphism - a derivative of Cubism moving towards nonrepresentational abstract painting.
The term 'Orphism', symbolically connected to music through the accomplishments of Orpheus, the Greek god, denoted in a wider sense the power of colour bringing music to art. It was coined in 1912 by poet and art critic Guillaume Apollinaire to recognize the development of non-figurative painting through analytical Cubism, advancing towards the exclusion of the representational object. Apollinaire, amongst other painters, identified this in Robert Delaunay's Simultaneous Contrasts (Sun and Moon) of 1912–13.
Though fairly a short lived movement (coming to an end around World War 1) the movement was a hugely important bridge between Cubism and Abstract art. Delaunay's work, among others, still stands strong in it's own right too - not just simply relegated to a footnote in Modern art's history. The bold use of colour and non-representative imagery culminated in some fiercely arresting work that still captivates audiences to this day.

To learn more about Robert Delaunay, Orphism, Cubism, Abstract art and much more, you'll love our new book Origins of Modern Art. This title informs readers about key figures, movements and historical events whilst showcasing some of the most spectacular and vital works made by important Modern artsists. You can take a closer look at the book here. For Amazon click here.
Links
You can learn about Piet Mondrian's career by clicking here
To gain some insight into Kandinsky's process, click here