In the last of this month's Q&As for our March releases, we have a special sample from the book instead!
Within the seven stories A Yi offers a series of portraits of modern life, both uniquely Chinese, and universal in their themes. His years as a police officer serve him well as he teases the truth from simple observation, now brought into the English language in a masterful translation by Alex Woodend. The stories include Two Lives, Attic, Spring, Bach, Predator. The first in the new Flame Tree Press series, Stories from China.
We hope that this extract from A Yi's short story collection inspires you enough to want to read more!

TWO LIVES Chapter 1
The low point in Zhou Lingtong's life occurred in his 26th year. At 26 some of his classmates had children, and some had graduated college a few years ago and were teaching high school, while Zhou Lingtong was still studying for the college entrance exam. Then after taking it again, Zhou Lingtong disappeared. He waited a long time for the results then secretly trudged back to campus. There wild grass grew long in cracks in the cement, terribly long, and a corner of the white paper on the wall hung down as if dozing. Zhou Lingtong smoothed the paper out and read the names one by one. When he came to his own name he couldn't help but cry out loud. When he was done crying he did not know how to go on. He wandered around – east, west – with no destination as the night grew dark like mud cruelly pouring, layer on layer, until he arrived at the river.
Its surface was full of light. From the fields he could hear all kinds of bugs having meetings. Zhou Lingtong walked straight into the cold. When he was nearly up to his neck the sound of a girl's voice came from the grass: Lingtong, what are you doing?
Bathing, Zhou Lingtong said. Then he hunched over and swam away. When he emerged from the water he saw only a figure carrying a laundry pail, dwindling into the distance. Then a flash of lightning streaked through the sky, lighting up the mountain summit. Zhou Lingtong took a breath and went ashore. Dripping with water, he headed for the summit alone.
At the summit, there was a temple called Longquan, which was built in the late Qing dynasty. When Zhou Lingtong arrived, the paintchipped door was shut. He didn't knock but dropped straight to his knees. After a while, his kneecaps, numb and hurting, could no longer bear the weight of his useless body, so he lay prostrate on the ground. He stayed like that for a while. Many ghosts came behind him, many beds came before him. He lay down, lay down like a dog and fell dead asleep. Early the next morning, a rain shower swept over, waking Zhou Lingtong up. He straightened up and went back to his knees. When it got brighter the temple door squeaked open. The vitiligo-riddled monk, Deyong, walked out, head to the sky. When he saw a lump of breathing flesh kneeling in the doorway he jumped back into the door.
Zhou Lingtong slapped his head on the muddy water. What are you doing? Deyong said, pointing at him.
I want to become a monk, Zhou Lingtong said.
Deyong shouted, astonished, and shook his head violently. Zhou Lingtong went on: Master, I can't go on living. Please take me in.
Careful not to get his cloth shoes stained, Deyong made his way across the muddy ground to inspect Zhou Lingtong. He said: You're in the prime of life. Why do you want to become a monk?
Zhou Lingtong said: I've failed the college entrance exam eight years straight. I have nowhere else to go.
Hands behind his back, Deyong straightened up and said: In my opinion, you are still clouded by your senses and entangled in your obsessions. You won't make a Buddhist.
Zhou Lingtong suddenly clung to one of Deyong's legs, and said: Master, I'm dying. Dying.
Disgusting, Deyong said and pulled his leg free. Then he walked straight into the temple. Fuck your mother, Zhou Lingtong wanted to shout, but was completely drained. As the door squeaked shut he passed out. When he came to, bleary-eyed, it took him a long while before he managed to see the shrivelled apple in front of him, which he then wolfed down. Then he caught sight of Deyong brandishing a huge door bolt at him. Away with you, Deyong said. Zhou Lingtong gathered himself up and began limply walking downhill. After walking some distance, he turned around and saw Deyong standing upright on the hilltop with a hand resting on the erect bolt. He gave another shout: Away.
Thank you!
---
We hope that you enjoyed reading this extract and it gave you a good enough idea as to what you can expect from Two Lives: Stories from China. You can pick up this book, along with the other March releases now. It will be available in paperback, hardback and ebook. Check out our website for details.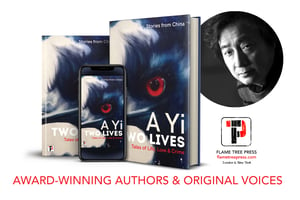 A Yi (author) is a celebrated Chinese writer living in Beijing. He worked as a police officer before becoming editor-in-chief of Chutzpah, an avant garde literary magazine. He is the author of several collections of short stories and has published fiction in Granta and the Guardian. In 2010 he was shortlisted for the People's Literature Top 20 Literary Giants of the Future. A Perfect Crime, his first book in English was published by Oneworld in 2015. He is noted for his unsentimental worldview, and challenging literary style.

Alex Woodend's (translator) fascination with Spanish and Chinese began at Franklin & Marshall College. He went on to study Chinese literature and history at Columbia University where his master's thesis explored early post-Mao literature. He has since translated several books into English and is at work on new translations and original writing.

---
---
Make sure you check back in with the blog for more Q&As with the authors of our March releases!