Concluding this month's Q&As with our October authors, we have Hunter Shea. He talks about a few influences of the book, what's to come and what his dream writing project would be!

What is the book about?

Slash is a trip back to the murder, madness and mayhem of all the slasher movies we loved in the 80s, but with a modern twist! The bloody centered is nestled within a juicy mystery coating that will keep people guessing as the body parts fly.

Did you base your characters on anyone you knew?

There's always someone from my life in my books. This go around, Jerry the cop is based on my buddy Jerry the graphic artist. He's one of the nicest guys you'll ever meet (very unlike Jerry in the book) and I was long overdue getting him in a book. He did the wonderful artwork for my Clash of the Cryptids and Hunter's Hellions designs.

Who influenced you most in the writing of the book?


I grew up a huge fan of the Friday the 13th movies -so much so, Jason's hockey mask is indelibly inked on my arm. I love the idea of a more than human than human killer who slays for sport. It's been a long time since we've had a new slasher character that inspires fear as much as it does twisted glee. I'm hoping this book will give Jason a pen pal.
Is there any advice you can give someone starting to write?


If you want to write, then write. Write as often as you can and finish what you start. While you're writing your fingers off, read until your eyes go cross. Both activities go hand in hand. The more you read, the more you write, the better a writer you'll be. That would look good on a cross stitch pattern!
What's the single best piece of advice you can give a new writer?


When you start submitting your work, go with the glass half full mindset and expect someone to offer you a deal. Then, be prepared for this question. "So, when can we expect your next book and what is it about?" That question comes real fast after an acceptance. You need to have your next book, or at least the main concept and a good deal of written pages, at the ready. Almost no one talks about this, and it's a key component to creating a career as a professional writer.
Where did you write?


I write everywhere I can. The laptop is possibly the greatest invention for the modern day writer. When I worked on Slash, I had started a new job that had very long hours. I had to set my alarm for early in the morning, fire up my laptop and plop my computer lap desk on my knees and get to work right in bed. Of course, there were plenty of scribbling sessions in my kitchen, the yard, my car and a spare office at work. Portability is great because you can always find a place to write in peace.
What was the soundtrack to your writing for Slash?


Oh, thank the gods for YouTube. I found all kinds of awesome 80s horror soundtracks to play in my headphones while I worked on Slash. Favorites were the soundtracks to Friday the 13th, Friday the 13th Part 2, The Burning, The Thing and The Mist. I found some great compilations that were an hour or more long, which was perfect to get my writing goals accomplished. I also discovered Lustmord (thanks to a fan who wrote to me) and man, that is some wicked, strange stuff. Perfect for writing a tale of terror.
What was it like to be edited by someone else?


If you're going to be a writer, you're going to have to get comfortable with handing over your work to an editor (or multiple editors). It's part of the process, and I;ve been very fortunate so far to have worked with some of the best and nicest in the genre. This is my second time with Don D'Auria and I couldn't be happier. He's a real mensch and knows what makes horror tick. Everyone I know who writes horror wants to work with Don, so I consider it an honor.
When you're not writing horror, what do you like to do?


I'm a podcast junkie. I love to listen to them and create them. I've been doing a video podcast for almost 8 years now called Monster Men. I'm also part of Final Guys, a weekly podcast (on audio and video) where we review the latest and greatest horror flicks, talk some news and tell a lot of bad jokes. If I could have my way, I'd be on podcasts from sunup to sundown. I always wanted to be a radio DJ and went to school for it. Podcasting has made that dream come true. So, if you have a podcast – even one that specializes in talking about rubber duckies – give me a call.
What is your dream writing project?


I would love to expand on the world that was created in Richard Matheson's I Am Legend. It would be great to explore Robert Neville more and then switch to the POV of the vampires and how his legend as a feared killer grows in their eyes. I could never hope to be as good as Matheson, but I would simply love to live in that space and challenge myself to create something worthy of the master.
Thank you!
---
Thank you to Hunter for taking the time to talk today about Slash. You can pick up this new FLAME TREE PRESS edition of his book, along with the other October releases now. It will be available in paperback, hardback and ebook. Check out our website for details.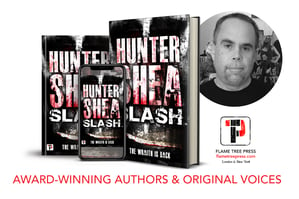 Hunter Shea is the product of a misspent childhood watching scary movies, reading forbidden books and wishing Bigfoot would walk past his house. He doesn t just write about the paranormal he actively seeks out the things that scare the hell out of people and experiences them for himself. He s the author of over 25 books, including The Jersey Devil (Pinnacle) and We Are Always Watching (Sinister Grin). Hunter s novels can even be found on display at the International Cryptozoology Museum.

The Montauk Monster was named one of the best reads of the summer by Publishers Weekly. He was selected to be part of the launch of Samhain Publishing s new horror line in 2011 alongside legendary author Ramsey Campbell. He s an avid podcaster and can be heard and seen on Monster Men and Final Guys every week. Living with his crazy and supportive family and two cats, he s happy to be close enough to New York City to see the skyline without having to pay New York rent. You can follow his travails at www.huntershea.com.

---
Make sure you check back in with the blog for more Q&As with the authors of our October releases!