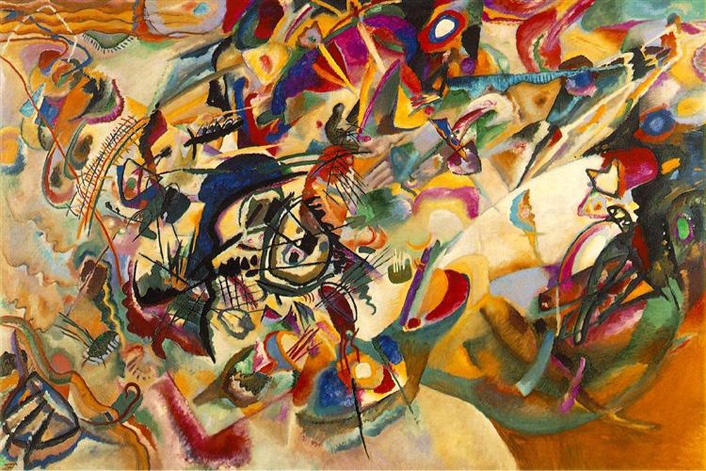 Known for creating one of the first abstract paintings, Wassily Kandinsky (1866–1944) spent his life experimenting with his artistic talent. With Composition VII (1913) Kandinsky tried to capture the feeling of hearing music using a cacophony of form and colour that make a truly distinct style. It is considered to be one of his most recognisable and successful works.
Abstraction
The most fully developed of all Kandinsky's 'abstract' paintings at this time were his 'Compositions', large-scale works intended by the artist as his most complete works and as the centrepieces of exhibitions. His Composition VI and Composition VII are the culmination of this innovative period in which he was moving towards Abstraction. There are many preliminary drawings and sketches for these paintings that demonstrate the complexity of the work.
Exhibitions
Kandinsky chose to exhibit Composition VI at the Erster Deutscher Herbstsalon in Berlin in September 1913, an important forum for progressive artists based on the successful Salon d'Automne in Paris. His friends from Der Blaue Reiter, Auguste Macke (1887–1914) and Franz Marc (1880–1916), also exhibited their work. The exhibition contained works by, and was dedicated to the memory of, the French naive artist Henri Rousseau (born in 1844), who had died in 1910. This truly international exhibition also exhibited works by other members of the avant-garde including Fernand Léger (1881–1955) and Jean Metzinger (1883–1956), and the Italian Futurists Umberto Boccioni (1882–1916) and Gino Severini (1883–1966).
Kandinsky's work was also represented at another landmark exhibition in 1913 with an international flavour, the Armoury Show in New York.
Key Information
Medium: Oil on canvas
Dimensions: 198 x 302 cm (78 x 119 in)
Location: The State Tretyakov Gallery, Moscow
Check out all of the Top 10 Paintings blog posts!
If you love this incredible abstract masterpiece, then do take a look at our beautiful hardback book Wassily Kandinsky Masterpieces of Art to get more information about Kandinsky's life and works. Alternatively, our Kandinsky wall calendar 2017 showcases an amazing selection of his artworks.