To Americans Edward Hopper's (1882–1967) art epitomises their country during a period of change in the early-mid twentieth century. As skyscrapers rose up in New York, Hopper observed the isolation of modern living in a crowded city. In the countryside he observed the landscape in all its beauty and the vernacular architecture of rural and suburban America. Above all the lives of individuals were observed without comment; Hopper left it to the viewer to complete each narrative.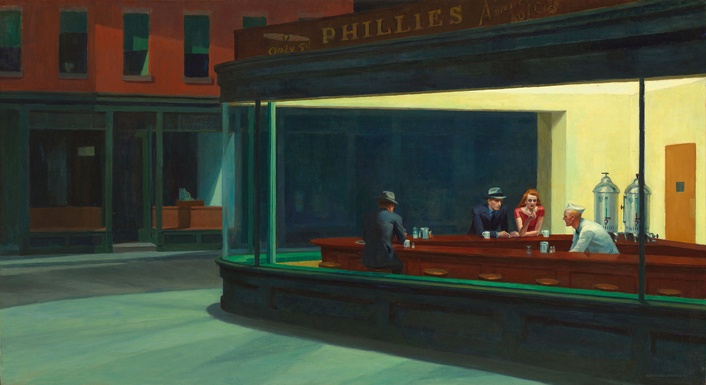 A Diner at Night
Nighthawks is perhaps Edward Hopper's most famous work. Produced in 1942, whilst the nation was at war, it depicts four figures, three customers and an employee, in a diner at night. In a typically Hopper manner, the narrative is obscure, the spectator remaining uncertain as to the relationship between the figures within, and indeed why he or she is situated on the empty street looking in.
Preparations for Nighthawks
Hopper planned his paintings very carefully, as can be deduced by his preparatory studies. In his early studies for Nighthawks (one of which can be seen below) Hopper captured the effect of the artificial light flooding out from the diner which illuminates the nocturnal scene. He also used the studies to carefully plot the position of each figure and the spaces between them so as to emphasize further the sense of isolation. From his various preparatory drawings, it is evident that Hopper gradually shifted the viewpoint, from showing the diner straight on, as if from the opposite side of the street, to a more oblique angle. This shifted perspective, exaggerated still further in the final work, makes the spectator's gaze more surreptitious, less confrontational, and thus adds greatly to the overall sense of mystery and alienation.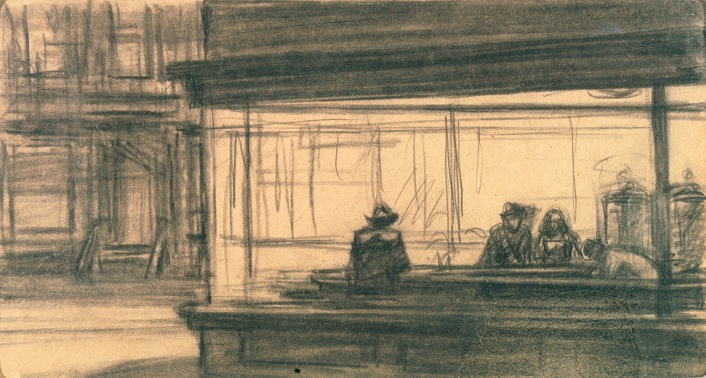 Medium: Oil on canvas
Dimensions: 84.1 cm × 152.4 cm (33 1⁄8 in × 60 in)
Location: Art Institute of Chicago, Chicago, Illinois
If you are impressed by Hopper's emotive works and would like to see more, and learn about his intriguing life, then take a look at our book Edward Hopper: Masterpieces of Art. Alternatively, take a look at our Edward Hopper wall calendar 2017 for a great Edward Hopper painting for every month of 2017.
Links
Check out all of the Top 10 Paintings blog posts!