One of the founders of the Vienna Secession movement, Gustav Klimt (1862–1918) is often regarded as the greatest painter of the Art Nouveau period. The Kiss (1907–08), possibly Klimt's most famous work, is a shining example of his 'golden phase'. Klimt had experimented with using gold in some of his earlier works, such as Pallas Athene (1898) and Judith I (1901), but he now started to use increasingly sumptuous ornamentation on a regular basis.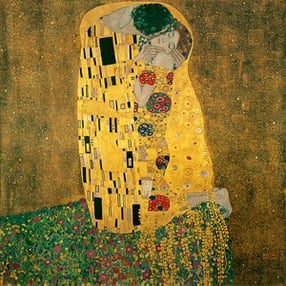 Lovers Embrace

The Kiss achieves a balance between emotion and ornamentation. The lovers are encased in an embrace of golden fabric. The man is decorated in the cold colours and geometrical angular patterns that symbolize masculinity; the kneeling female is represented in warm colours by swirls and circles, the symbols of femininity. Together they create a harmonious whole.
A New Aesthetic
When Klimt and his colleagues formed the Vienna Secession in 1897 they were announcing a formal separation from the traditional, academic art in favour of highly decorative styles. This aesthetic conformed to the European-wide Art Nouveau movement, which sought unity in the applied arts.
The development of Secessionism reflected a profound historical and ideological revolution that characterized the fin-de-siècle. In Vienna Sigmund Freud's (1856–1939) analytical methods of exploring the subconscious were topical and Klimt's intensely experimental, controversial work explored the subconscious and emotional impulses and desires. Klimt's extraordinary creative energy, expressive use of line and dominant use of ornament captured the avant-garde spirit that helped develop the abstract aesthetic that followed.
Key Information
Medium: Oil and gold on canvas
Dimensions: 180 x 180 cm (71 x 71 in)
Location: Österreichische Galerie Belvedere, Vienna
If you love this sumptuous Art Nouveau masterpiece as much as we do, then you're in luck! You can buy a beautiful foiled journal, foiled pocket journal or foiled sketchbook; as well as an iPhone 5 case, all with this beautiful image on.
Links
Here's an article with 15 things you should know about The Kiss.
The Austrian mint have honoured Klimt's The Kiss by putting it on a €50 coin. See here.
Many of Klimt's 'golden phase' pieces have been brought to life incredibly with live models by photographer Inge Prader. See them here.
Check out all of the Top 10 Paintings blog posts!