Monet produced countless works that are famed and treasured the world over, but the series of paintings of water lilies in his garden at Giverny is what he is best known for.
During the later years of his life, when cataracts were increasingly taking hold, Monet dedicated his life and work to his garden. He prolifically produced over two hundred and fifty paintings of the lilies that lay in his water garden there.
He said; 'I planted my water lilies for fun, when I saw all of a sudden that my pond had become enchanted. I seized my palette. Since then I have had no other model.'
The Garden
By the time of this paining, c. 1905, Monet was financially stable, wealthy and able to exhibit and sell his canvases with ease. During this time, Monet no doubt employed a team of people to help keep the gardens in shape, but he remained at the helm of this horticultural wonderland and therefore spent the last three decades of his life recording it and experimenting with different views and techniques.

The Lilies
In this particular study, the lilies appear almost flat against the water. This shows a rejection of conventional viewpoints, adding a closeness and uniqueness of expression. This is also a study of the movement of light and cloud, which is reflected in his depiction of the water. His compositions became complicated spatially concerning the relationships of the horizontals of the water lilies and cloud reflections, and the verticals of the trees and the reeds, The juxtaposition of those elements, both real and reflected, further created the depth and dream-like quality.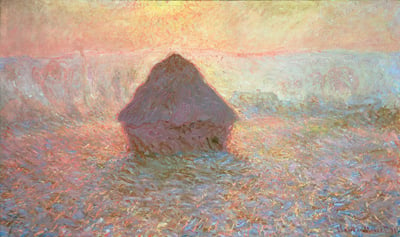 Beyond the Garden and the Lilies
The number of times he depicted these lilies shows a determination to experiment with and capture nature in as many different ways, and in as many different states as possible. They were not unique in this sense; Monet also produced series based on Rouen Cathedral and haystacks in a field near Giverny, capturing them in different light, seasons and weather. This shows a desire to capture the effects of the transitory nature of life, while combining all those motifs that he most loved to paint.
Medium: Oil on canvas
Dimensions: 89 x 101 cm (35 x 39 3/4 in)
Location: Private collection
If you are interested in finding out more about Monet, then take a look at our book Monet: Masterpieces of Art. Or, see great Monet paintings year-round with our 2017 Monet wall calendar.
Links
Take a look at this article on why Monet's water lilies are so popular.
See Monet's page on the Musee d'Orangerie's website for fascinating details and insight.
Find out about The Monet Foundation's work and book a visit to the gardens at Giverny here.
Check out all of the Top 10 Paintings blog posts!
Blog posted by Zara Gillick