Painted in 1839, this painting's full title is The Fighting Temeraire Tugged to her Last Berth to be Broken up. J.M.W. Turner (1775–1851) was in his sixties when he painted it in London, and so it showcases his mastery – particularly of sea and sky – gathered over a distinguished career. Paint is layered on thickly to make up the sky and the sun's rays, which is in contrast to the delicate detail used for the ship's rigging.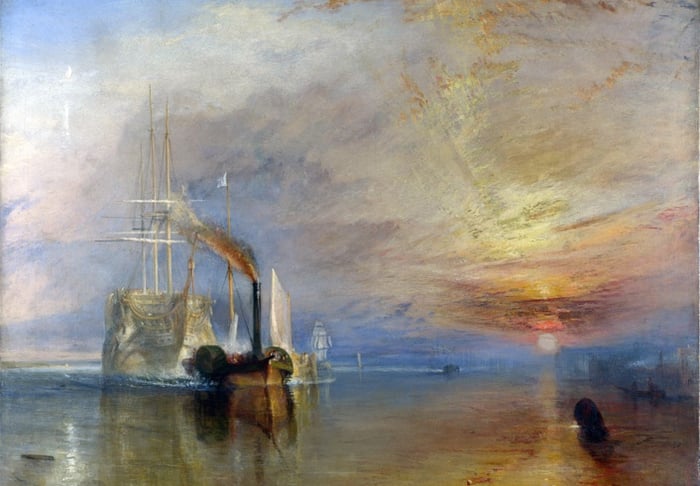 The Warship
The Fighting Temeraire was a warship with 98 guns that was launched in 1798 and accompanied Nelson's ship Victory at the Battle of Trafalgar. In this painting Turner commemorates the final journey of the old ship as she is towed up the Thames to be broken up. In the later years of the 1830s there was a renewed public interest in the old warships from the Napoleonic era that would have partly inspired Turner's vision. However, the painting can also be seen as a comment on the decline of Britain's mercantile power and his use of the evocative setting sun strongly symbolizes both this and the demise of the ship.
A Fragile Beauty
An interesting point to note is the juxtaposition of the fragile beauty of the old sailing boat being pulled to its destruction by the squat strength of the steam tugboat. This was a time when the advent of steam was taking hold and surpassing that of the old sailing boats; the advancement of steam power was something that Turner was fascinated by. The picture was first exhibited in 1839 at the RA, accompanied by two lines paraphrasing Thomas Campbell's 'Ye Mariners of England': The flag which braved the battle and the breeze, / No longer owns her.
Key Information
Medium: Oil on canvas
Dimensions: 90.7 × 121.6 cm (35.7 × 47.9 in)
Location: National Gallery, London
If, like us, you're a huge fan of J.M.W. Turner, take a look at our beautiful hardback book J.M.W. Turner Masterpieces of Art or our Tate – J.M.W. Turner wall calendar 2017 for a stunning Turner painting for every month of 2017.
Links
The Fighting Temeraire hangs in the National Gallery in London. Take a look at their website for more information about it.
The Wall Street Journal has a detailed and interesting article about the history of the ship: The Tale of the Temeraire.
For a detailed account of Turner's life and works visit The Turner Society website.
Check out all of the Top 10 Paintings blog posts!