One of Japan's most iconic artworks, this hugely influential woodblock print was produced in the early 1830s, as the first in a series of paintings by Katsushika Hokusai (1760–1849). Conveyed through bold blocks of eye-grabbing colour, The Great Wave is a dynamic fusion of contrasts – energy and stillness, power and vulnerability – and remains the most recognizable image of the Thirty-six Views of Mount Fuji.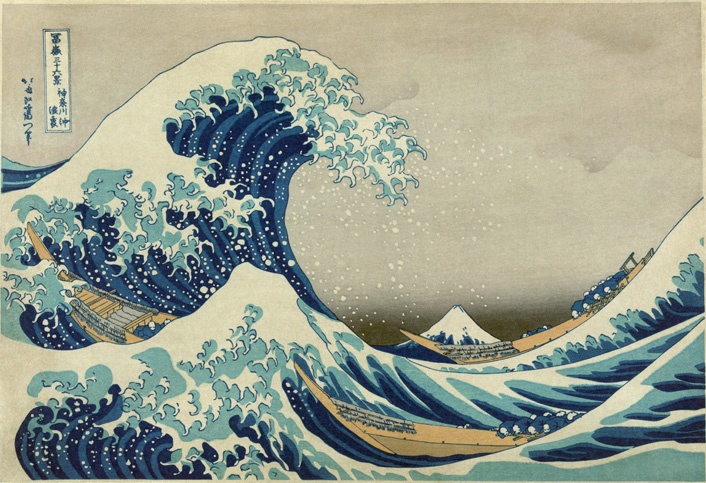 Simple Magnificence

Foam-topped waves frame the snowcapped cone of Mount Fuji in the far distance in this, one of the most celebrated images of Japanese art. Katsushika Hokusai has contrived a scene in which the violent energy is married with perfect balance – see how the smaller wave in the foreground 'rhymes' with the form of the mountain on the horizon. There is wit here then, as well as majesty and a hint of mystery: who is in the boat beneath the rearing wave and what will become of them?
More than Meets the Eye
Intriguingly Japan's most famous landscape artist started out as a cartoonist, creating the manga, or comic sketches, so popular at the time. He is more interesting than the over familiarity of certain of his works may make him seem. Not just because he did other things but also because even the more famous things were not designed to be seen and canonized singly the way that they have been. The big print series he produced of views of Mount Fuji, for instance, can be read as ingenious sets of variations, often light-hearted ones, on a theme.
Key Information
Medium: Colour Woodblock Print
Dimensions: 23.8 x 36.6 cm (9 3⁄8 x 14 7⁄16 in)
Location: Museum of Fine Arts, Boston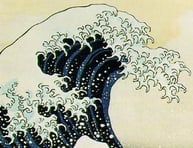 This is one of our favourite images here at Flame Tree – if you love it too, take a look at our foiled journal, foiled pocket journal and foiled sketch book, which all feature the beautiful image. Or perhaps you would like it as an iphone 5 case, or even fancy having a go at our Great Wave 1000-piece jigsaw!
If it's Mount Fuji that's captured your attention and you'd like to know more about the other similar prints inspired by the location, be sure to explore our book 'Visions of Fuji', which you can buy here.
Links
– Find out more about the man behind the artwork here.
– 15 Things You Might Not Know About 'The Great Wave off Kanagawa'.
– The appeal of the Great Wave continues, even into the realm of sports cars – recently, Garage Italia Customs have paid homage to the image on an Alfa Romeo: check it out here.
Check out all of the Top 10 Paintings blog posts!