Painted in 1893, The Scream is Munch's most famous work and is generally regarded as a precursor to the Expressionist art movement. The instantly recognizable composition is both instantly striking and lastingly haunting, capturing as it does an intense emotional experience. The now iconic androgynous figure in the foreground is seemingly swept up in the same distortion that affects the landscape. This creates the impression that the whole scene pulsates with agitation and energy, in keeping with Munch's intention to depict a subject's personal experience of the world around them.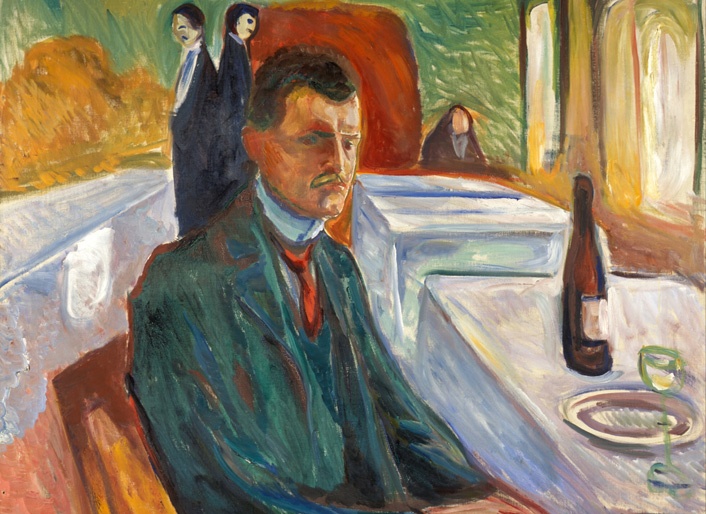 The Man Behind the Work
Edvard Munch (1863–1944) studied in Christiania (now Oslo) and travelled in Germany, Italy and France before settling in Oslo. During his time in Paris (1908) he came under the influence of Gauguin and had immense sympathy for Van Gogh due to the bouts of mental illness from which both suffered. In fact, this would have a profound effect on the development of Munch as an artist and explains the extraordinary passion that pervades his work.


Psychological Depth
Life, love and death are the themes that he endlessly explored in his paintings, rendered in an Expressionist symbolic style. His use of swirling lines and strident colours emphasize the angst that lies behind his paintings. He also produced etchings, lithographs and woodcut engravings that influenced the German artists of the movement known as Die Brücke.

There are four versions of the Scream, one of which includes a poem authored by Munch himself, inscribed in the painting's frame. The poem is similar to a diary entry of Munch's, which recorded the experience that appears to have inspired the painting. In the diary entry, Munch describes walking (near to the psychiatric hospital where his sister was staying), before stopping to look at a blood red sky and feeling 'as though a vast, endless Scream passed through nature'.

Key Information
Medium: Oil, tempera and pastel on cardboard
Dimensions: 91 x 73.5 cm (36 x 29 in)
Location: The National Museum, Oslo


If you've fallen in love with the intensity of this powerful image, we have a foiled journal that will be of interest to you, as well as a book about Munch's life and art. Or, if you'd like a monthly dose of Munch's work, our 2017 Munch calendar will soon be available for purchase.


Links
The Scream has been stolen more than once. Learn about the story behind the daring first theft of 1994 here.
Find out more about Munch's life and works on The Art Story website.
The Scream has inspired many parodies in popular culture. Take a look at a few of the most obvious ones here.

Check out all of the Top 10 Paintings blog posts!